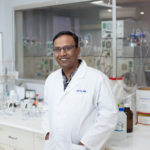 We are pleased to announce that Nilesh Mendpara has been promoted to the role of Technical Director of Autopak-Vetlab Group.
Nilesh, who holds a Masters in Organic Chemistry, joined the company five years ago as a Research and Development Chemist.
In his new role, Nilesh will be responsible for managing all R&D projects, as well as providing technical expertise for product and quality improvements and cost saving initiatives. He will also continue to provide technical support and supervision for Incoming Goods Quality Control staff.
We congratulate Nilesh and wish him continued success.